Workshop 3: Opportunities and Challenges
Organised in partnership with Camden Council the third and final Design for Social Innovation and Sustainability (DESIS) workshop of the year aimed to supercharge collaboration between higher education and public service providers.
Running back-to-back with the Nesta Social Frontiers conference, the workshop provided an opportunity for design led social innovation researchers and practitioners to share and exchange their approaches and resources with public service organisations facing the challenge of innovating service provision. The aim was to identify and support the formation of challenge themes which could provide the focus for practice and research collaboration.
Ezio Manzini kicked off the proceedings by discussing the synergies available to design schools, social innovators and service providers that view staff and students as societal resources, and the relationship between designers and non-designers and the competencies involved in social innovation projects.
Eduardo Staszowski, Director of the DESIS Parsons Lab, then shared his learning and insights from Public and Collaborative NYC, a program of activities that explored how public services in New York City could be improved by incorporating greater citizen collaboration in service design and implementation. To round up the keynotes session Ali Griffin, Deputy Director of Finance at Camden Council, provided an overview of the policy context this work is situated within, and outlined the reasons to apply social innovation approaches to local government service design and delivery.
Following the keynote session we had two quick fire rounds of case studies where designers from higher education institutions had worked with other public or third sector organisations, and where new innovative approaches were being initiated by Camden Council. Projects presented included urlife.org.uk, a collaboration between Central Saint Martins and Camden Council to redesign and expand a website providing advice for young people in Camden, Community Researchers, a new model for gathering resident feedback by recruiting and training community members to become social researchers, developing by Matthew Upton at Camden, and Service Design Tynside Mind, a collabortion between Northumbria University PhD student, Laura Warwick and Tyneside Mind. To find out more about the case studies take a look at the presentation slides from the two sessions available on the DESIS-UK website here.
The day finished with the 'collaboration marketplace'. Here, delegates at the workshop chose their spot and made their pitch whilst others attending listened and offered feedback on the idea or challenge being presented. Once all those who had submitted a challenge had made their pitch delegates were asked to cluster in groups where different challenges and expertise could potentially be brought together to form a new collaboration opportunity.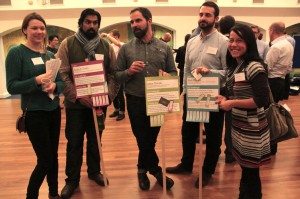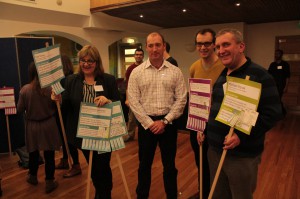 DOWNLOAD THE FULL PROGRAMME FROM THE WORSHOP: DESIS-UK WORKSHOP 3 PROGRAMME
READ THE FULL CALL FOR PARTICIPATION: DESIS-UK WORKSHOP 3 CALL
Keywords:
---